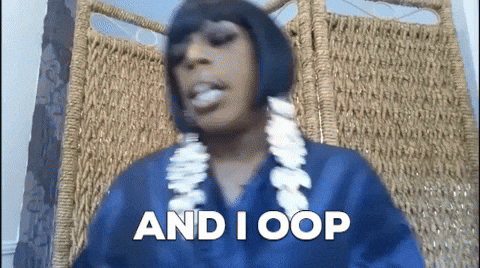 Some of you may remember Jasmine Masters from her television debut on RuPaul's Drag Race season seven and the fourth season of RuPaul's Drag Race All Stars.
All year Jasmine's "And I Oop" gif has taken a tole on the internet and people just cant get enough of it. Her award winning gif came from one of her videos titled 'Jasmine Masters Handle Your Liquor" from her YouTube channel.
As she was discussing about people who cant hold their liquor she accidentally hit one of her balls. Jasmine squirmed around in her seat a little and motioned her lip and closed her eyes for a brief moment and then lets out a groan. As she began to talk again she confesses and say "I just hit one of my balls". Fans soon got wind of it and quickly made Jasmine a viral meme star.
Reports from giphy.com, which is a website that numerous of people use to download and upload gifs, states that the "And I Oop" gif has gained over 419 million views. The company felt the need to reward her for all of the views that was brought to the site. The numbers are estimated from how many times it has been pulled from their website. Giphy has been connected to popular apps like Facebook, Slack, Instagram and more.
Recently Jasmine opened a gift sent from Giphy, which contained a congratulatory card, a small sculpture of GIPHY's logo, and a video picture frame that played her gif over and over again. She began to giggle and laugh while accepting her awards. Everyone lets give Jasmine a round of applause as we congratulate her on her win.